Brushless dc pump is a dc water pump powered by a dc power supply, solar dc power supply, or battery operated. Usually used as a dc booster pump, dc submersible pump, dc solar pump, dc circulation pump to pressurize, transport and circulate liquids. Such as water, oil, acid and alkali liquids, food grade liquids, emulsions, etc. Compares with AC water pumps driven by 120v, 220v, 240v, 380v AC motors, brushless dc pump has characteristics of small size, safety, high efficiency, low noise, portable, etc.
As a low voltage small water pump,Brushless DC pumps are widely used for applications that requires low price, safety, quiet, low power consumption. Such as applications for: home appliance, vehicle, pool, well, pet water fountain, Aquarium, fish tank, dc fountain, water heater, water circulation system, automotive heat management system, etc.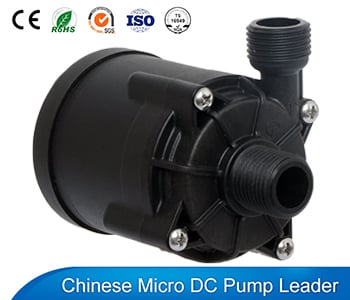 Brushless dc Pump Manufacturer
VOVYO Technology Co., Ltd is a brushless dc pump manufacturer in China which located in Dongguan city. VOVYO specialized in R&D and producing small circulation water pump, automotive electric water pump, food grade water pump, quiet water pump, booster water pump, water heater pump, etc. During the past more than 10 years, VOVYO has developed 9 series pump from VP25 to VP90. All of them are built by a 12v , 24v, 5v, or 6v bldc motor. Mainly used for application like small water circulation system, cat water fountain, irrigation, electric water heaters, water booster system, coffee machine, auto engine cooling, motor controller cooling, automotive heat management system etc.
VOVYO brand dc pumps are popular in the world. We export pumps to global countries such as United States, India, Japan, England, Germany, Australia, Canada, Italy, South Korea, Brazil, France, South Africa, etc.
Advantages of Brushless Pump
Brushless dc pump has many advantages due to it is built by a bldc motor. As we all know, brushless motor is high in efficiency, long in life span, low in noise , easy in control. So, it has many advantages compares with brushed dc water pump or AC water Pump. Here, list some of them as below :
Long life: Car electric water pump with life span more than 20,000 hours. Further more, it can continuously work for 24 hours per day.
2.No leakage: There is no leakage in the electric pump due to the advanced magnetic drive and statically sealed technology used for it.
3.Wide working temperature range: As a electric coolant pump, it can work in the temperature range of -40°C ~ 125°C. The engine preheating and parking heater pump can also work smoothly. Even under extremely harsh environmental conditions.
4.Polarity protection: It can protect the pump from burning due to the wrong connection of the positive and negative electrodes.
5.Energy saving: brushless dc pump has the advantages of energy saving, high efficiency and environmental protection.